For this post, I decided to write about Justin Guarini. He was the runner up on the very first season of Idol. I actually decided to write about Justin because I just got a tweet the other day that he just became a dad. In February 2009, he announced his engagement and then on September 26, 2010 they were married. Then on April 26, his wife, Reina Capodici, gave birth to a seven lb, 2 oz boy.
Since being on Idol, his debut album was out in 2003 which also came out around the same time as the movie he co-starred with Kelly Calrkson, From Justin To Kelly. The movie didn't do that well, but I loved it! I'm probably the only one who did!
His album only sold 134,000 copies and then in December 2003, he was dropped from RCA Records. In December 2005 he released his second album Stranger Things Have Happened that he produced himself through his own production company, Justice Entertainment, Ltd.. In 2010 he was cast in his Broadway debut as Carlos in the Broadway show Women on the Verge of a Nervous Breakdown. He also played a part in the Broadway show American Idiot, which just closed on April 24 of this year. He is going to star in a production of Rent in Beach Haven, New Jersey from May 28-June 19.
I can't really find anymore information on Justin so I don't know if he is currently working on another album or anything.
Here is a picture of him from his first audition on American Idol.
Then here is one in 2007, comparing his hair to when he was on Idol.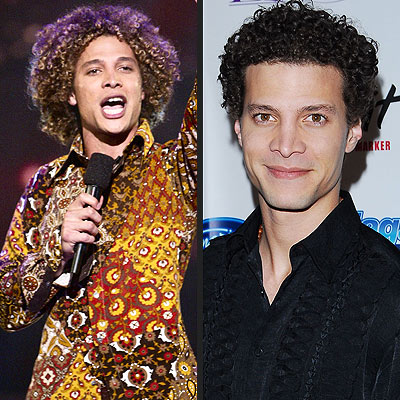 Then this is a picture of Justin, his wife, and his wife's daughter.
That's all for this edition of "Idols-Where are they now?" Stayed tuned for the next one! And if you haven't already, link up to my blog hop! I will be closing the linky later tonight and then picking a "Featured Blog of the Week" to be featured on next week's blog hop. Have a great Friday everyone!!!